Five Common Reasons Why Philadelphia Motorcycle Accidents Happen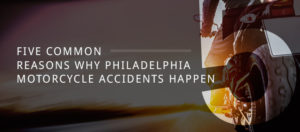 Motorcycle accidents are extremely dangerous events and the injuries sustained by motorcycle operators and their passengers can oftentimes be severe and catastrophic. When these incidents are the result of the negligence of another person, victims can often recover significant compensation for the losses they have sustained, including their medical expenses, lost income, loss of quality of life, and physical and emotional pain and suffering.
Determining whether an accident was caused by negligence can be a complicated matter, which is why victims should always take the time to speak to an attorney after a wreck. A lawyer will thoroughly review your case and determine whether you have a claim to file.
Five Causes of Motorcycle Accidents
While the myriad of possible causes of Philadelphia motorcycle accidents is overwhelming and potentially unlimited, some of the more common causes of Philadelphia motorcycle accidents are as follows:
Disobeying traffic laws – Traffic laws,1 including red light laws, right-of-way laws, and speed limits, exist for a reason. When a motor vehicle driver or motorcycle operator disobeys or disregards traffic laws, serious accidents and injuries may result.
Operating a vehicle while under the influence of drugs or alcohol – Drugs and alcohol (even small amounts) can alter a person's mindset and perception. Operating a car or motorcycle while under the influence of drugs or alcohol is a recipe for disaster.
Mechanical defects – When a car or motorcycle experiences a mechanical malfunction or defect while on the roadway, serious crashes can result. The most common example of a mechanical defect is a headlight, tail light, or turn signal light malfunctioning or burning out while on the roadway. In these instances, there may even be a potential cause of action against the product/part manufacturer or distributor.
Failing to appreciate road conditions – Motorcycle operators must be careful to appreciate the road conditions and operate their motorcycles accordingly. Common examples of dangerous road conditions that can lead to serious motorcycle accidents include potholes, sharp curves, steep hills, and construction zones.
Recklessness, carelessness, and negligence of a motor vehicle driver – When a motor vehicle driver acts in a reckless,2 careless, or negligent manner while behind the wheel of a car, serious accidents and injuries with motorcycles and other vehicles can result. Negligent or careless driving usually consists of speeding, following too closely, driving too fast for road or weather conditions, and making abrupt lane changes, usually without signaling.
Protecting Your Legal Rights After an Accident
If you are involved in a motorcycle accident in the Philadelphia area, there are certain things you can do to maximize your chances of recovering compensation. The first issue you need to deal with after a motorcycle accident is your physical well-being; if emergency medical personnel recommend that you go to the hospital, do so. If you are able to stay at the scene of the accident, try and collect as much information as you can, including the names of the other drivers involved, the license plate numbers of the vehicles, the other drivers' insurance information, and any identifying information on any commercial vehicles that may have been involved.
It is important to go see a doctor after an accident, even if you do not believe that your injuries require medical treatment. Doing so will ensure that your injuries are identified, treated and that an official record is generated. Seeing a physician is an important step in ensuring that you are able to recover compensation later, as insurance companies will often try and argue that your injuries are not as severe as you claim.
Finally, you should speak to an attorney as soon as you can after an accident has occurred, as any delay could hurt your chances of recovering compensation for your losses.
Contact a Philadelphia Motorcycle Accident Attorney Today to Discuss Your Case
If you have been injured in a motorcycle accident as a result of someone else's negligence, our experienced attorneys can assist you with safeguarding your legal rights and helping you to obtain monetary compensation.
Insurance companies sometimes deny liability altogether in motorcycle accident cases and refuse to pay. However, our experienced Philadelphia motorcycle accident lawyers have the necessary legal knowledge and skills to combat the insurance companies and obtain a fair settlement on your behalf. If the insurance company denies liability – or if a fair settlement cannot be reached – our experienced attorneys are not afraid to litigate your case or take it to trial.
To schedule a free consultation with one of our lawyers, call the Levin Firm today at 215-825-5183 or contact us online.